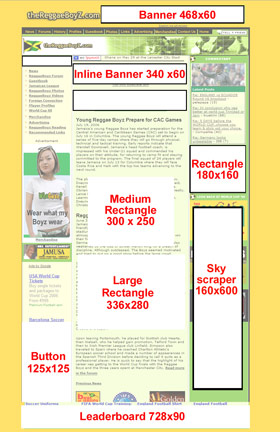 Advertising Options

Text Ad (100 characters )
Button (125x125)
Rectangle (180x160)
Inline Banner( 340 x60)
Medium Rectangle (300 x 250)
Large Rectangle (336x280)
Leaderboard (728x90)
(bottom of page only)
Skyscraper (160x600)
Banner (468x60)
Email - Text link & short message - Newsletter sent monthly to the site's mailing list of over 2,000 subscribers
More Information
Email us for rate details
Advertising Benefits and Options
The most provocative, engaging, informative and entertaining site on Jamaican football (soccer)
About
TheReggaeBoyz.com is presently one of the most, if not the most, influential Jamaican football website. It provides football news, and updates, discussion forums, player information and much more. It's primary users are Jamaicans (in Jamaica and around the world), as well as non-Jamaicans who are seeking Jamaican football related information.
Launched in 1997, it was one of the very few Jamaican websites covering The Reggae Boyz '98 World Cup Campaign to France. TheReggaeBoyz.com has an active online community of repeat visitors and loyal members to the lively, entertaining and informative discussion forum. It has been described by one member as a cross between true journalism and Jamaican labbrish. TheReggaeBoyz.com has been voted the "Best of Jamaica 2000, 2002 Sports and a winner of the "Jamaica Top 5 Surfers Choice Award" among other recognitions.
Why Advertise with us

TheReggaeBoyz.com visitors are internet savvy and are sophisticated global consumers.
A targeted and captive market is interested in products and services that relates to Jamaican culture, products and merchandise, vacation, travel, music and entertainment, sports and recreation
TheReggaeBoyz.com reaches millions of global users annually.

TheReggaeBoyz.com receives over 350,000 "page views" per month and has over 5,000 registered users.
TheReggaeBoyz.com is the highest ranked Jamaican football related website by Alexa.com and in the top 60,000 websites online.

TheReggaeBoyz.com has valuable first page ranking on search terms relating to Jamaican Football or the Reggae Boyz football team on the major search engines (Yahoo, Google and MSN). This will continue to drive new traffic to view your product or services.
Advertisers are assured that their advertising dollars will be well spent
Who Should Advertise

Foreign companies trying to penetrate the Jamaican or Caribbean market
Businesses trying to reach Jamaicans at home or abroad
Jamaican companies seeking international exposure
Businesses with football related products or services
Companies offering vacation destinations and resorts
Businesses seeking to build brand awareness
Advertising rates start as low as
US$25 per week.

Please e-mail us for more rate details.
thereggaeboyz.com is operated by Paul Anthony Worldwide,Inc. and is not affiliated with the Jamaica Football Federation (JFF). All rights reserved.