Harbour View Football Club
The Stars of the East
Jagga - Moderator
On a recent visit to Jamaica, I was given the opportunity of an exclusive tour of the Harbour View Football Club (HVFC) facilities. Impressive was the first thing that came to me as I was shown around the complex that I as a boy growing up in the area we referred to as Compound.
Harbour View FC was established in 1974 and has grown to become one of, if not, the premier football organization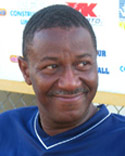 in Jamaica. General Manager, Clyde Jureidini spoke about plans to strengthen the management and administrative structure of the club, continued upgrade to the facilities and improved strategies in marketing the club. In addition he expressed their commitment to relations within the Harbour View community and adjoining communities and their desire to building international alliances in the Caribbean, North America, Central America and Europe.
Over the years, HVFC has had the services of some of the top names in Jamaican football and had three of their players, Peter Cargill, Onandi Lowe, and then a 19 year old sensation, Ricardo Gardner, represent the Reggae Boyz at the 98 World Cup in France. Ricardo Gardner went on to become the club's first million pound transfer as he was picked up by English Club Bolton Wanderers where he continues to play. Other top players to have worn the colors of HVFC includes Milton Griffiths, Clennon Clarke, Altimont Butler, Luton Shelton, Damani Ralph, Robert Scarlett, Fabian Taylor, Keith Kelly, Sean Fraser, Akeem Preistley, Damion Stewart and midfield maestro Jermaine Hue.

Mordan "Mordy" Brown, a senior member of the club, gave TheReggaeBoyz.com an exclusive tour of the facilities which can house 24 players. Along with a well lit full size field and well maintained playing surfaces, there is a player lounge, a well equipped gym, first class changing areas for home and guest teams, sleeping quarters and their own laundry facilities.
In addition to many local championship wins, HVFC was the first Jamaican club to win the Caribbean Club Championship and to also advanced to the CONCACAF Quarterfinals where they loss to DC United. This game was shown live globally on FoxSportsWorld.
ThereggaeBoyz.com would like to thank Clyde Jureidini, the management and staff of Harbour View Football Club for allowing us to share our visit of such an impressive club with the rest of the world.
Comment on this story in the forum
HARBOUR VIEW FC SENIOR PLAYERS
Lance Laing #16,
Andre Fagan #22,
Dicoy Williams #26,
Clifton Waugh#20,
Dwayne Miller #01 (GK),
Michaud Barret #32 (GK), Kavin Bryan #10,
Nicholas Beckett #5,
Errol Stevens #90,
Girvan Brown #23,
Rafiek Thomas #17,
Oniel Smith #7,
Mitchily Waul #12,
Denzil Watson #9,
Davioen Woodhouse #21,
Keith Kelly #39,
Kevin Wooley #15,
Richard Edwards #8, Ronnie Amaguana #13, Marcelino Blackburn #31, Donald Stewart #44, Kemeel Wolfe #45,
Marvin Mundy #55 (GK). See all team members at HVFC.net
MORE ON HARBOUR VIEW FC
HARBOUR VIEW CAPTURES LEAGUE TITLE (June 2010)
Harbour View captured their third premier league crown after beating Boys' Town 2-1 and saw second-placed Tivoli Gardens succumbed 1-2 to St Georges in the Digicel Premier League (DPL) with two games remaining. Read more in the forum
HVFC defeats Barracudas FC 1-0
HVFC Community Outreach Program with 8 Basic Schools
Feb 11, 2009
Harbour View FC Welcomes 2 Sponsorship Packages!
Jan 17, 2009....Read More
Visit the official website of Harbour View Football Club at www.HVFC.net
HARBOUR VIEW FOOTBALL CLUB
33 FORTH NUGENT DRIVE
HARBOUR VIEW; KINGSTON 17.
SYDNEY MASTERS - PRESIDENT
CLYDE JUREIDINI - GENERAL MANAGER
MRS ANNMARIE MASSEY - MANAGER