You have the Products and we have the Buyers!
Yes…It's true. Here's your opportunity to advertise your products directly to the buyers you are trying to reach.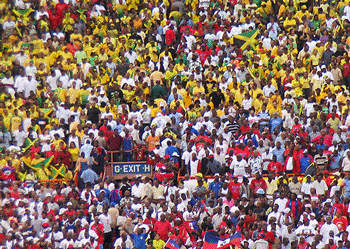 Let me explain. TheReggaeBoyz.com is the most provocative, engaging, informative and entertaining site on Jamaican football (soccer). Its primary users are Jamaicans (in Jamaica and around the world), as well as non-Jamaicans who are seeking Jamaican football-related information and products.
The Facts …

Visitors to TheReggaeBoyz.com site are internet savvy, sophisticated, global consumers.

They form a targeted and captive market, interested in products and services that relate to Jamaican culture, merchandise, destination, travel, music and entertainment, sports and recreation.

TheReggaeBoyz.com reaches millions of global users annually.

TheReggaeBoyz.com receives over 350,000 "page views" per month and has over 5,000 registered users.

TheReggaeBoyz.com is the highest-ranked Jamaican football-related website by Alexa.com and in the top 100,000 websites online.

TheReggaeBoyz.com has valuable first page ranking on search terms relating to Jamaican Football or the Reggae Boyz football team on the major search engines (Yahoo, Google and MSN). This will continue to drive new traffic to view your product or services.

Advertisers are assured that their advertising dollars will be well spent with TheReggaeBoyz.com.

But wait, there's more! If you're currently operating a business that:

Is trying to penetrate the Jamaican or Caribbean market
Is trying to reach Jamaicans at home or abroad
Is a Jamaican company seeking international exposure
Has football (soccer) related products or services
Offers vacation destinations and resorts
Is seeking to build brand awareness
You could notice an almost immediate increase in profits by advertising to people fitting the profile of those who buy your types of products and services. This one, powerful website could bring you tons of hot leads and new customers, encourage them to keep buying over and over again, reactivate 'lost' customers, and even provide you with a constant stream of referrals.
Look at it this way - for as little as $25 You Really Can't Afford Not To Invest In Generating A Constant Stream Of Targeted Customers Who Are DYING To Get Your Products Or Services In Their Hands NOW!"

Get started NOW and prepare for a flood of new customers.
Sincerely,
Paul Anthony Brown - Publisher
www.TheReggaeBoyz.com
P.S. Just think! $25 is really a drop in the bucket compared to the money you're going to waste on ineffective advertising and marketing and email campaigns this year.

Reserve your Advertising space NOW!!
Click here to Download Advertising Rates
P.S. if you've decided not to order.
Now, as attractive as this offer is, I know many business owners who could benefit by advertising on TheReggaeBoyz.com won't order... and it bothers me, personally, because of all the targeted buyers that need your products and services that will slip away. We know that our members trust us and will trust and support our advertisers.