Reggae Boyz practice before meeting Switzerland at the Lockhart Stadium, Fort Lauderdale Florida
March 2007
Jagga
I stopped by the Lockhart Stadium to watch new look Reggae Boyz in their Wednesday morning practice session. The players went through some light drills on a half field with two full sized goals under the watchful eyes of new Technical Director, Velibor 'Bora' Milutinovic.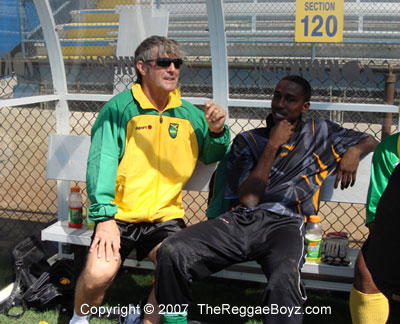 A lot of emphasis was on positional play with Bora stopping the session constantly to stress what he was trying to convey. He is a coach that gets involved with the plays, runs around with the players and stays on top of the action. The players seemed pretty relaxed and went through the session without anything impressive or outstanding. They also worked on some set plays and corners.

Had a chance to chat with the ever cool but hard working Howie Bell, team manager for the Reggae Boyz. He indicated that the team chemistry has been good and that all the players are working hard. Bell said he noticed an overall spirit of optimism with the players and that even the NPL players seems energized with the arrival of Bora.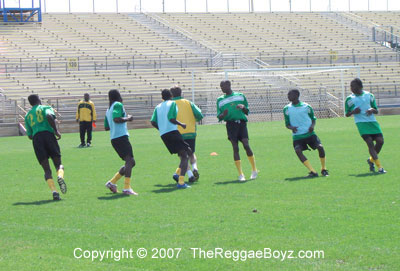 The team that is going up against Switzerland is composed of about 8 under 23 players, Taylor the u23 captain, Reid, Moody, Virgo, Harrison, Finlayson, Davis and Powell, which are amoung the core that they are building on. Other players not on this trip includes Pierce, Morrisey, Plummer who were on the Hong Kong trip, Shelton, Priestly, White and Nathan Koo–Booth absent for various reasons. When Jamaica plays Panama, Bell expects that Bora will juggle the players some more as he is constantly evaluating them. He said the goal is 2010 and that is why the focus is on this age group.

Bell thinks that Bora is a good choice and says that organization and unity is constantly stressed to the players. Bell would like to see the team able to create more scoring opportunities and better finishing and that all players should be capable of scoring, not just the forwards. He highlighted Taylor as a player that has shown the ability to score important goals.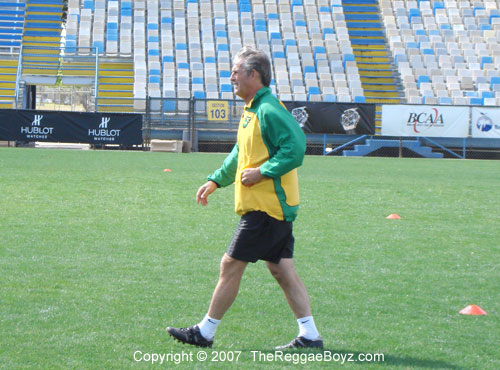 I also met Bora and struggled to understand him verbally. I must credit the players as they seemed to understand (i hope) what he was conveying to them on the field.

In response to my question on his impression of the players, Bora said he was happy with them, happy with the spirit they are showing, that they have more than lived up to his expectations. He likes the progess and is expecting much more improvements from them. When asked about the deficiency of the team and what needs the most work, he immediately said "everywhere, as all areas must be strong and no single area is better than the other...this is why they will train hard to make the team better". On his views on Jamaica he said "so far he was happy, everyone has been nice and everything is going ok".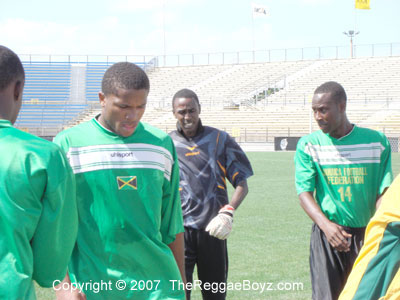 On my way out, I had a brief chat with Crenston Boxhill, President of the JFF. He said that he is very confident that they made the right choice in Bora and was happy that they finally got him. He made a good point that sometimes the public expects too much too soon and that many fans are not looking at what they are trying to achieved in the long term.