Content sponsored by ROOTZ REGGAE & KULCHA

PUBLISHED BY EYE -2-EYE COMMUNICATIONS, INC.
BOB MARLEY - REGGAE MAESTRO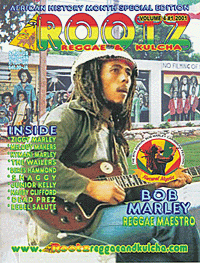 Bob Marley became larger than life from the moment of his transition into other realms and today, in February 2005, 24 years later, the Reggae Maestro is larger and more ever-present than he's ever been. His music is everywhere, his image is everywhere, major networks are broadcasting programs about him, and he is receiving high honors from the mainstream music industry. His album "Exodus" was named "Album of the Century" by Time Magazine and his song "One Love" was named "Song of the Century" by the British Broadcasting Corporation.
Marley's Earthday celebrations have always been a highlight of recent Black History/African Awareness Month activities, but each year, the spotlight on the Reggae Maestro is even more intense. Although he never received a Grammy Award in his lifetime, (there was no "Reggae Grammy" at the time), Marley -as the "King of Reggae"- is now being presented with the music business's ultimate honor, the Grammy Lifetime Achievement Award. But first, on Tuesday February 6, 2001, Bob's 56th Earthday anniversary, the Reggae Maestro was honored during a Hollywood Walk Of Fame Star Presentation Ceremony. Marley's stone star can now be seen at 7080 Hollywood Boulevard. Sponsors for hundreds of stars sought the honor and the winners were chosen by the Hollywood Chamber of Commerce. Sponsors pay $15,000 and promise their celebrities, if living, will appear for the curbside ceremony.
Other inductees that year include singers Randy Travis, Kenny Loggins and Al Jarreau. And as the month long spotlight on Bob Marley continues, PBS Television was scheduled to air "Rebel Music: The Story of Bob Marley" on Wednesday February 14th as part of its American Masters series. And for internet surfers logging on to pbs.org and going to the American Masters Series section, there is a really attractive interactive career timeline for the Reggae Maestro, a feature essay by Roger Steffens and an interview with film maker of the PBS "Rebel Music" program, Jeremy Marre. Speaking about how Marley fits into the American Masters library, Marre is quoted as saying, "He's had an enormous impact on the world through his music and politics. His music grew from and fed back into American music. He was a great role model: a man who was focussed, determined, loyal, tough and gentle. He had enormous integrity. Money was never his goal, and he never knew how to spend it. Bob cared. His weaknesses were human weaknesses. His courage was remarkable. I think Bob would grace anyone's library. And I'm delighted he's an "American Master". For his part, Marley archivist Roger Steffens says that "Without doubt, Bob Marley can now be recognized as the most important figure in 20th century music.
In his essay on the PBS website, Steffens goes on to say that "Unlike mere pop stars, Bob was a moral and religious figure as well as a major record seller internationally. To whom does one compare him? In a recent Sunday New York Times Arts and Leisure lead story, Stanley Crouch makes a compelling case for Louis Armstrong as the century's "unequaled performer," excelling not just in his instrumental inventiveness but in his vocal style as well, transforming the way music was made and listened to, and influencing performers of all stripes right down to this very day. But you don't see thousands of Maori and Tongans and Fijians gathering annually to pay honor to Louis Armstrong; you don't witness phalanxes of youth wandering the world sporting Louis Armstrong t-shirts. In fact, big as the Beatles were, you hardly see any Beatle shirts around anymore, except for those few featuring John Lennon's sorrow-inducing visage. Can you imagine an image of Elvis sewn onto the sleeve of an armed guerilla? When was the last time you saw a Michael Jackson flag or a Bob Dylan sarong or Madonna rolling papers? All of these exist in Marleyite forms, his iconography well nigh a new universal language, the symbol, as Jack Healey of Amnesty International continues to tell people, of freedom throughout the world."
Also running during February 2001, has been "The Story of Reggae and Bob Marley" featuring "Treasures" from Roger Steffens' Reggae Archives. Over 6000 items are on display at the Queen Mary Village in Long Beach Harbor, California and the exhibit is open daily from 10am to 6pm. Never before has there been an exhibition anywhere in the world like The World of Reggae and Bob Marley. Steffens feels that his three-decade-long, self-described "Reggae obsession" is finally coming to fruition. "I've always wanted to share the six rooms of my house that are jammed full of this incredible history with the world at large. I am really grateful to Global Treasures and the Queen Mary for providing me with the fulfillment of this dream of a lifetime."
Thousands of artifacts from the rich history of Jamaican music and the legendary career of Reggae Maestro Bob Marley, are on display in a unique exhibition being housed in two buildings of the English Village. Selected from the internationally renowned collection of American Reggae collector Roger Steffens, the exhibition covers forty years of Jamaican musical creativity. Beginning with the birth of Ska in the early 1960s and moving through the eras of Rock Steady, Reggae, Dub, DJ (Rap), Lovers Rock, Two-Tone and Ska Revival, Dub Poetry, and through the recent ascendancy of Dancehall and Raggamuffin, The World of Reggae and Bob Marley is a stunning aural and visual experience, immersing the visitor in a barrage of sensations that will be sure to illuminate and entertain.
Post your comments on our "Board"
Content sponsored by ROOTZ REGGAE & KULCHA



PUBLISHED BY EYE -2-EYE COMMUNICATIONS, INC.
Email: rootzreggae@email.com