KYMANI...More Marley Magic
Kymani's long awaited and much anticipated debut album, "The Journey", on the Gee Street/V2/Shang Records label, is scheduled to hit the streets running on August 10, 1999. The new album is indeed a journey ....a journey into exactly who this name-brand, but yet untested young artist really is. The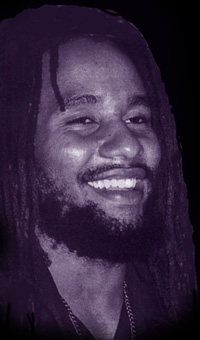 album could almost have been called "Many Moods of Kymani" and as Kymani explains, the process of making the album was like a journey for him too: "I call the album, `The Journey', because it's almost like I travel in the album, hitting different places, moods and cultures ...Hopefully my music will take you to many different destinations." In other words, he's taking us on a journey, just like his father -Bob Marley- took us on many a musical journey. Close your eyes and it's Bob, or it often sounds like him. But of course it's not.
There's a different musical vibe, as the young Marley comfortably embraces a range of genres from Reggae, to Hip Hop, to Country, to Rhythm & Blues. According to Kymani, "The main part of me having a different vibe and style, (come from) being brought up in the U.S. I've been here since (age) 9, listening to R&B and Rap, which gave me the chance to find my own style and to be able to change the feeling from one extreme to the next ...I cover Reggae, R&B, Rap and Dance music in the album because I wanted to feel it was for every one." But although the musical vibe might be different, the lyrical dexterity and the message seem to be the same, and he presents songs with universal themes, laced with personal insight and passion, just as Bob did. "My message is always to deal with love, peace and unity. That's the most powerful thing, and if people can feel that on these tracks, then I have done something right." And after listening to an advance copy of the CD, we have to admit
that some of that mystic Marley Magic does seem to pervade Kymani's work. It has that same tangible across-the-board appeal.
Very soon, as a massive promotional push for "The Journey" moves into high gear, we're all going to be as tired to see Kymani's face as we are to see Bob Marley's -Not! Articles about Kymani are appearing everywhere, as he has been doing a whole bag of interviews recently with a wide variety of publications from Billboard, to Vibe, to Rootz Reggae & Kulcha. In the meantime, Kymani's management company, Shang Records, has also put together about 8 television promo spots, with the likes of Wycleff and Pras from the Fugees, Treach of Naughty By Nature, Buju Banton, Kymani's grandmother Cedella Booker, as well as brothers Steve, Julian and Damien, all touting "The Journey". These promo spots are already running on Jamaican TV and are expected to be aired on U.S. TV by the end of July. Meanwhile, a 12-inch vinyl Hip Hop remix of the single, "Warriors", was shipped to Hip Hop/ Reggae mix radio shows, crossover radio and club DJ's beginning in mid June. Alternative and Modern-Rock stations were scheduled to receive CD promos of "Country Journey" by the end of June. At the same time, videoclips for "Country Journey" and "Warriors" -featuring heavyweight boxer Lennox Lewis- were also being shipped during June to national video outlets. The videoclip for "Dear Dad" was shipped to national, Caribbean and Reggae shows in April and was added to the playlist at MTV2. At press time, Kymani was just getting busy. He was set to take off on his first official tour on June 23, 1999. He was billed to make a 3-week trip to Europe, including Germany, France and Holland, and was scheduled to share the stage at some of the venues with the likes of Burning Spear and Luciano.
The itinerary further calls for spot dates in Hawaii and Guam, before the young Marley embarks on a promo tour States-side in August. In addition, Kymani is billed for two dates in Jamaica on August 28 and 29, when he is to perform along with Busta Rhymes and Beenie Man in Ocho Rios and at Cinema 2 in Kingston. Kymani traveled to the Ivory Coast in West Africa in December 1998 for his first trip to the continent and says it was "a very wonderful experience". Describing the people in Africa as "beautiful", Kymani said he was looking forward to returning there later this year. Kymani is clearly making a lot of tracks and covering a lot of ground as he lives up to his name, which means "Adventurous Traveler". The question still remains however. Does he have the Marley Magic? Go take "The Journey" with him yourself, and make up your own mind!
Street/V2. Gee Street is owned by John Baker, who was once head of Chris Blackwell's Island Jamaica. Kymani then completed another collaboration, this time with Gee Street label mate Prince Bee of P.M.

Kymani's mother, Anita Belnavis, who reigned as Jamaica's table tennis (ping-pong) champion back in the 1970's, did much to shape and develop her only child, born on February 26, 1976. Kymani was only 5 yearsold when his father passed away in 1981 and many of his memories of Bob are mostly from his mother. Growing up surrounded by a love of sports by both his parents, Kymani naturally developed a love of sports himself and never dreamed of musical stardom, especially after he moved to Miami with his mother in the mid 1980's. However, Anita encouraged him to take piano and guitar lessons and he played the trumpet in his high school band. Eventually he came to the attention of Clifton "Specialist" Dillon from the Miami Beach-based Shang Records. Dillon, as the manager/ producer behind the early `90's crossover success of Shabba Ranks, Patra and Mad Cobra, was a pioneer in bringing Dancehall music to the forefront of the international music market.
Soon, Kymani was signed to Shang and recorded several singles on the Shang label. First was "Judge Not" in combination with Patra, followed by the hit -"Dear Dad", "Who The Cap Fit" and "Sensimellia", all of which cemented his growing reputation for reincarnating the Marley Magic. In 1997, Kymani joined up with Pras of the Fugees on a hit cover of Eddy Grant's "Electric Avenue". Before long, there was a prolonged and intense bidding war between competing record labels for Shang's main act. Shang eventually signed an album deal for Kymani with the New York based independent label, Gee Street/V2. Gee Street is owned by John Baker, who was once head of Chris Blackwell's Island Jamaica. Kymani then completed another collaboration, this time with Gee Street label mate Prince Bee of P.M. Dawn, on the single "Gotta Be Movin' On Up" from the soundtrack of the movie "Senseless" starring Marlon Wayans. Both collaborations helped to expose Kymani beyond the tight knit Rootz/Reggae community that knew about his ability from jump street. According to the upcoming singer/songwriter, "Being that I'm Bob Marley's son and that, I don't think it's right for me to limit my talent. I want to be able to take my talent where it leads me. I am willing to work with anybody as long as we are making good music." He sounds like his father's son, doesn't he? And that's why Kymani has been logging serious studio time with his brothers Ziggy, Steve, Julian and Damien, for the next project on their Jamaica-based Ghetto Youths label. "It's basically straight Hip Hop, with all the brothers on it.
Hip Hop's definitely grown on me and I feel comfortable doing it too. I have no doubts or second thoughts." When asked which are his favorite tracks, Kymani began listing, "Dear Dad", "Return Of A King", "Warriors", "Fell In Love" ....at which point I stopped him from naming the whole album. Yet we have to agree with Buju Banton's promo quote, that, "From track one to track fourteen, "The Journey" ah lick shot." The album opens with the current single, "Rude Bwoy", and its Spanish Guitar intro into the Reggae rift. Gunslinger Johnny is back, as Kymani gives us a virtual "I Shot The Sheriff -Part 2" and introduces a positive "Rude Bwoy". The next two songs, "Fell In Love" and title track, "Country Journey", are the amazing results of a one-day visit that Kymani paid to the Brooklyn, New York, studio/home of the other Royal Family of Reggae, Morgan Heritage. The Morgans co-wrote, performed on and produced both cuts and appear in the accompanying videos. Kymani's original Wailers-sounding, textured voice combines mystically with Peter Morgan's great vocals for a dazzling and dynamic love song worthy of father Bob. "Fell in love with a Rastaman" is a sure fire love anthem, a song you won't stop singing. As for "Country Journey", this should be nominated for a Country & Western Music award without any doubt. This easy going song is the perfect crossover tune that will appeal to everyone. And wait `till you see the cowboys and cowgirls dancing to Reggae/Country in the video.
Now we're at track #4, "Dear Dad", which is Kymani's first hit and is already a classic in the mode of Bob's "No Woman Nuh Cry". Produced by drummer Sly Dunbar, this song is like an anthem for the fatherless or anyone deprived of the opportunity of being raised by their own father for whatever reasons. Kymani says that he was so caught up in his own personal emotions and feelings, that it was years later, after listening to and reflecting on the public response to the song, before he realized the deep impact it has had on so many others who are in a similar situation to his. Track #5, "Return Of A King" is a compassionate collaboration with "Dear Dad" (i.e., Bob), just like how Natalie teamed up with her deceased father -Nat King Cole- through the powers of technology. And suddenly, "The Journey" moves into overdrive, jumping to the hardcore, rub-a-dub, rootz-rockers, with "Emperor", a tune guaranteed to find favor with the Rastaman posse. This track alone makes this album a must. "The Journey" speeds on through other tracks, like the album's straight-up Pop/Reggae-Dance mix, aptly titled, "Party's On"; on past "Tom Drunk" in a a style we've never heard anything like before; into a Bob Marley/Lee Perry-like mix of Upsetter kicks on "Fire Fire"; into Kymani's self-produced salutation to the smugglers bringing in the good weed, "Warriors", which really should do well on urban radio waves. Track 14 is the finale - "The Lord Is My Shepherd" - and is Psalms 23 in a vintage Wailers fashion, bringing "The Journey" to a full and complete stop. But that's when listeners will want to return to track #1 and restart "The Journey" all over again. That's gotta be the Marley Magic at work. Remember! You heard it here first!
Visit the officia website of ROOTZ REGGAE & KULCHA